Prescription medication is often a drug of choice for abusers, The Crossroads Program strongly encourage everyone to properly dispose of all unused medications.
Please do not flush your medications/ prescriptions down the toilet, this can contaminate our water supply!
These programs are free and anonymous. By using these programs, you will be helping to keep these drugs out of the hands of abusers.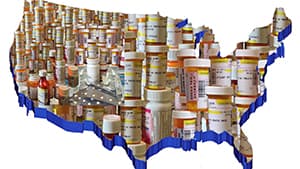 THE FOLLOWING POLICE DEPARTMENTS MAINTAIN YEAR-ROUND PRESCRIPTION MEDICATION DROP BOXES AT THEIR FACILITIES:
St. Louis Area Police Department Drop Box Locations
Arnold Police Department – 636-296-3204         2101 Jeffco Blvd. 63010
Ballwin Police Department – 636-227-9636         300 Park Dr. 63011
Eureka Police Department – 636-938-6600        120 City Hall Dr. 63025
Florissant Police Department- 314-831-7000      1700 N. Hwy 67 63033
Ladue police Department- 314-933-1214             9345 Clayton rd. 63124
Manchester Police Department- 636-227-1410   200 Highlands Blvd. Dr. 63011
Olivette Police Department- 314-645-3000         9473 Olive Blvd, 63132- available 8am- 5 pm.
O'Fallon Police Department –636-240-3200       100 North Main St. 63368
St. Ann Police Department –314-427-8009         10405 St. Charles Rock Rd. 63074
St. John Police Department – 314-427-8706      8944 St. Charles Rock Rd. 63114 No drop box, however, unwanted prescription medication may be dropped off at the station and police personnel will handle disposal.
Sunset Hills Police Department-314-849-4400    3905 S Lindbergh St Louis, MO 63127
St. Louis County Police Departments Drop Box Locations
North County Precinct – 314-355-1200              11815 Benham Rd. 63138
Affton-Southwest Precinct –314-638-5550         9928 Gravois Rd. 63123
South County Precinct –314-892-1510               3031 Telegraph Rd. 63125
West County Precinct –636-225-0425                232 Vance Rd. 63088
Webster Groves Police Dept.– 314-963-5402    4 East Lockwood 63119
Wentzville Police Department -636-327-5101     1019 Schroeder Creek Blvd. 63385
Drop Box Locations Outside the St. Louis Area in Missouri
De Soto City hall lobby 636-586-5617                                17 Boyd St.63020
Crystal City (City hall lobby) 636-937-4614                        130 Mississippi Ave 63019
Imperial East zone Sherriff's office 636-797-6236            955 Windsor harbor rd 63052(Located on Windsor campus)
Festus police dept. 636-937-3646                                       100 park ave 63028
Gerald police dept. 573-764-3424                                       106 E. Fitzgerald ave 63037
High Ridge North zone sheriff's office- 636-797-6210       34 Dillion plaza dr 63049
New Haven police dept. 573-237-2211                               1100 olive rd 63038
Pacific police dept. 636-256-2424                                        300 N. hoven dr. 63069
Pevely police dept. 636-475-4498                                        401 main st. 63070
St. Charles County police Dept.- 636-949-3000                 101 Sheriff Dierker ct. 63114
St. Clair police dept. 636-629-1313                                      1 paul parks dr 63077
Sullivan Police Department-573-468-8001                         106 Progress parkway,
Truesdale police dept. 636-456-3166                                   109 pinckney st. 63383
Union Police Department -636-583-3700                             119 S church st, Union, MO
Washington Police Department -636-390-1050                   301 Jefferson Street,
Kansas City Area Drop Box Locations
KCMO Police North Patrol Division-1001 NW Barry Rd Kansas City, MO 64155 (816)437-3400
KCMO Police Shoal Creek Patrol  -6801 NE Pleasant Valley Rd Kansas City, MO 64119 (816)274-6013
Liberty Police Department -101 E Kansas St Liberty, MO 64068 (816)439-4716
North Kansas City Police Department-2020 Howell St North Kansas City, MO (816)274-6013
Smithville police dept. 07 west main street, Smithville, mo 64089 (816)532-0500 Mon- Fri 8am-5 pm
Illinois Drop Box Locations
Alton P.D. – 1700 E Broadway, Alton, IL (618)463-3505
Bethalto police dept. 213 N. prairie st. Bethalto Il 62010 (618-377-5266
Caseyville, IL P.D. – 10 W Morris St, Caseyville, IL 62232 (618)344-215
Collinsville, IL P.D. – 200 W Clay St, Collinsville, IL 62234 (618)344-2131
Columbia, IL P.D. – 1020 N Main St, Columbia, IL 62236 (618)281-5151
Edwardsville police dept. 400 N. Main st Edwardsville,Il 62025
Fairmont heights 2601 N. 41st. st fairmonte city Il 62201 (618)274-4504
Fairview Heights P.D. – 10027 Bunkum Rd, Fairview Heights, IL (618)489-2100
Freeburg police dept. 14 Southgate center freeburg Il 62243 (618)539-3132
Highland police dept. 820 mulberry st. Highland Il 62249 (618-654-2131
Madison county sheriff's office 405 randle st. Edwardsville, Il 62025
Maryville, IL P.D. – 2500 N. Center St, Maryville, IL 62062 (618)344-8899
O'fallon police dept. 285 N. 7 hill rd. O'fallon Il 62269 (618)624-4545
St. Clair County Sheriff's Department – 700 N 5th St, Belleville, IL (618)277-3504
Troy, IL P.D. – 116 E Market St, Troy, IL 62294 (618)667-6731
Waterloo P.D. – 301 S Main St, Waterloo, IL (618)939-3377